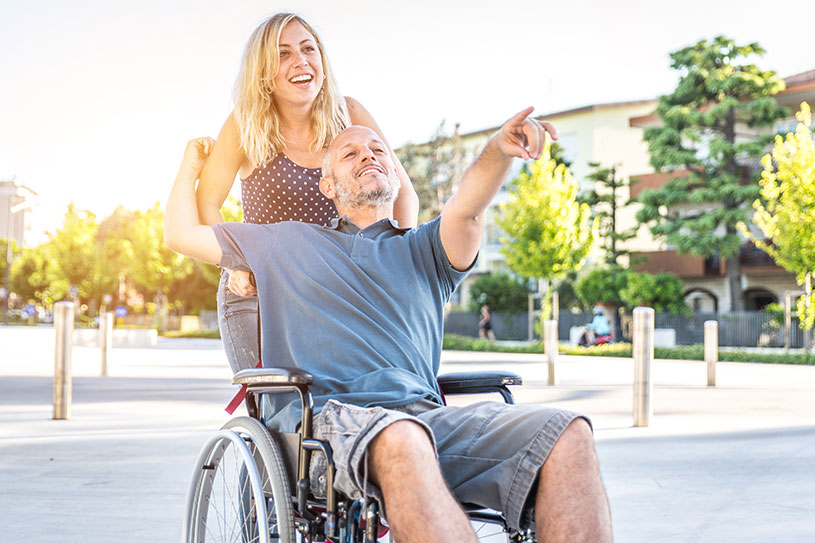 Services for disabled people
We do everything we can to ensure passengers with reduced mobility can travel on our buses and trains safely with as much ease as possible. To help with this, we have compiled some handy tips for you and your carer.
We transport disabled people, their carers, wheelchairs and luggage in accordance with the applicable regulations governed by the Social Code (Book IX), as amended. According to the arrangements laid down in the Social Code (Book IX), severely disabled people entitled to free travel on the basis of the German Disabilities Act are transported free of charge, subject to the presentation of an authorization card (green/orange) and the applicable addendum with a token. If your official ID card features the letter "B" or "BL" along with the sentence "Die Notwendigkeit ständiger Begleitung ist nachgewiesen", verifying that you require constant accompaniment, your carer will also travel free of charge.
The Deutsche Bahn Mobility Service Center can take care of everything you require in relation to accessible travel and answer any questions you may have regarding suitable trains, accessibility at train stations and the minimum amount of time required for connections.
You can contact the Mobility Service Center by calling 030 652128-88, sending a fax to 030 652128-99 or by emailing msz@deutschebahn.com.
The Mobility Service Center is available from 6am to 10pm from Monday to Friday, and from 8am to 8pm on Saturdays, Sundays and bank holidays. Information for the deaf and hard of hearing can be found at www.bahn.de/hoerbehindert.
All 20 Ringzug railcars are equipped with additional disability access ramps to enable wheelchair users to board and disembark, even at lower platform heights. As accessibility is not always adequate on every platform, we recommend contacting Südwestdeutsche Landesverkehrs-GmbH, Verkehrsbetrieb Hohenzollerische Landesbahn, Dienststelle Ringzug by calling 07462 204210 (between the hours of 8am to 12pm and 1pm to 3pm from Monday to Friday) at least one working day before your planned trip to let them know your requirements. They will provide you with everything you need to know for a smooth, stress-free trip.
Routes that are generally always carried out using low-floor buses are marked with a wheelchair symbol (or similar) in the timetable. In this case, standard wheelchairs can be transported on these routes. However, each bus can only take a maximum of one wheelchair for technical reasons. There are also restrictions for special types of wheelchair (e.g. heavy power wheelchairs) for similar technical reasons. Please contact the respective bus company to find out more. We recommend letting them know you'll be travelling in advance to make your journey as smooth as possible.